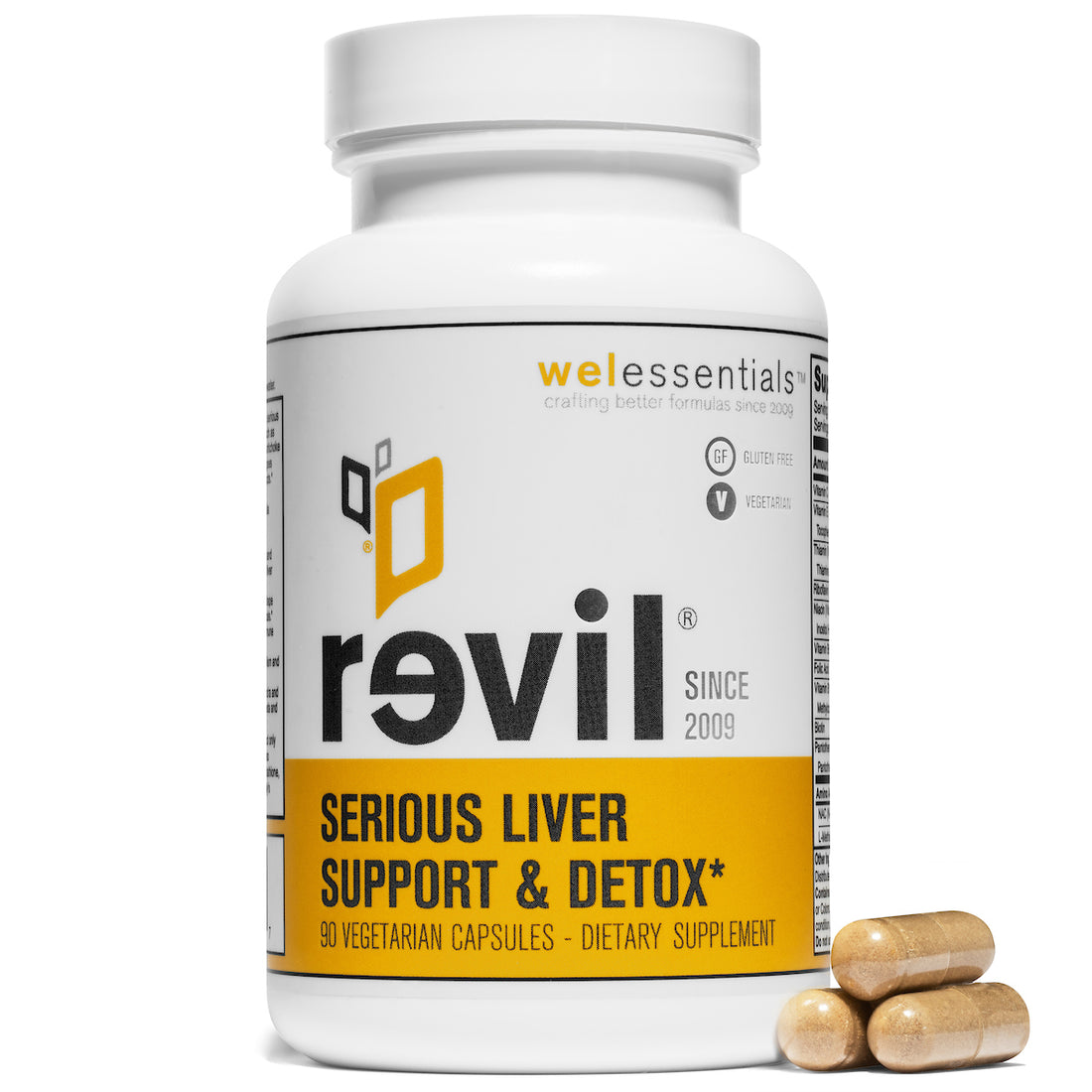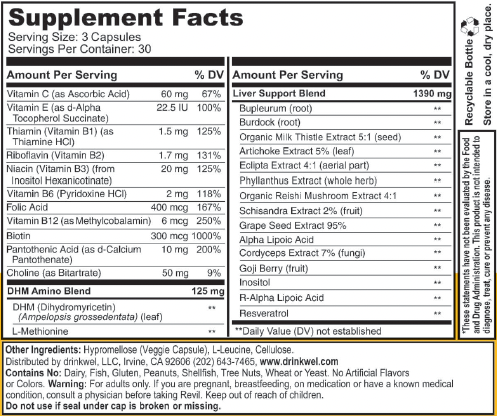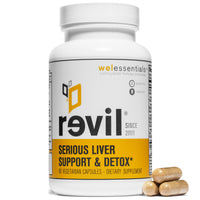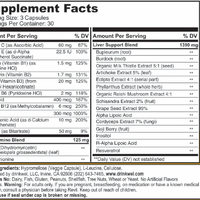 Revil For Serious Liver Support & Liver Detox
Product Details

Revil is focused on bringing you serious liver support. Loaded with 28 ingredients such as Bupleurum, Burdock, Organic Milk Thistle, Artichoke Leaf and Organic Reishi Mushroom, our product goes beyond your standard liver support products. Revil can be taken on its own or alongside Drinkwel or other multivitamins. It is recommend for those who are looking for long term liver support. As you can see, we aim to provide the most comprehensive liver support and liver detox product on the market. 
Instructions
Take 3 capsules once daily with food and water or as directed by your qualified healthcare professional.
How It Works:
10 Support Mechanisms Included In Revil:*
1. Organic Milk Thistle, Artichoke Leaf, and Burdock Root to support liver health and liver detoxification.
2. Antioxidants such as Resveratrol and Grape Seed Extract to help neutralize free radicals.
3. Liver supportive herbs Schisandra and Phyllanthus Amarus, long used in Ayurveda and Traditional Chinese Medicine.
4. Amino acids L-theanine and Taurine assist the body in metabolizing alcohol-induced toxins.
5. Vitamins C and E are powerful antioxidants that assist the liver in removing toxins and protecting hepatocytes (liver cells) from damage.
6. Bupleurum, also known as Chinese Thoroughwax, is known for its ability to protect the liver and is anti-inflammatory.
7. Pantothenic acid that can help protect the liver from alcohol damage. As an antioxidant, it scavenges free radicals, protecting the liver from lipid peroxidation.
8. Lipotropic agents such as Vitamin B6, Folic Acid and Vitamin B12 promote the flow of bile to help keep fat from accumulating in the liver. This helps optimize liver functions such as metabolism and detoxification.
9. A full Vitamin B-Complex to aid metabolism and maintain energy.
10. Organic Reishi Mushroom and Vitamin C are included for immune system support.  
Our Guarantee
We always offer a simple guarantee: feel healthier taking our products or receive all your money back, including shipping. No product to send back. No forms to fill out.
Packaged Contents
Each Revil bottle contains 90 vegetarian capsules, or 30 servings.